Don't be turned off by the ultra low price of the Xmark XM-4434 Power Tower. This solid-looking bodyweight station retails for $169 on Amazon, with free shipping offered to prime members.
Why am I recommending this station? Well, aside from the fact that XMark Fitness has a great reputation, they also offer a lifetime warranty!
This setup isn't going to give you the multitude of options that you'll get from the much pricier BodyCraft T3 Power Tower, but when you're spending less than $200, you can't expect many bells and whistles with your purchase.
Specs for the XMark XM-4434 Power Tower:
54.5" W x 48" D x 86" H
Apparatus weighs 85 pounds total
2" x 2" square tube made from 14-gauge steel
Rated for a 250-pound user
Unique Design Features: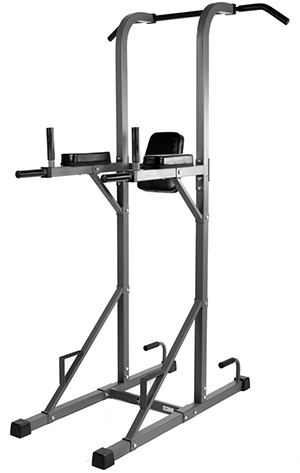 Wider/Longer Base
The footprint of this unit looks quite promising. The XM-4434 is two feet wider and a foot longer front-to-back than the slightly less expensive Weider Power Tower I reviewed a while back. It's also two inches taller than the latter, and a full 3 inches taller than the BodyCraft T3.
Square Tube Frame
The larger measurements and the fact they've used square tubing in the frame tells me that the XMark XM-4434 is probably much more stable, especially if you're a heavier person. Surprisingly, despite the square tube design and wider base, the maximum weight capacity on this unit is the same as the Weider version, but I'm still convinced it's probably sturdier. There are several reviews online to support this theory. Check out the Amazon Reviews for yourself.
Dip Handles
One of the XM-4434's selling features that's popular with people is the dip handle spacing (rubber gripped for comfort) which are only spaced 21" apart. Many bodyweight stations have dip bars that are spaced 24" or more, which is fine for doing wide-grip forward-leaning dips for the chest (i.e., elbows out), but makes it hard when trying to isolate the triceps as you want your arms to be tight to the upper body (i.e., elbows in.) Learn more about the differences between the two kinds of dips here.
Pros of the XMark XM-4434 Power Tower:
Price
Obviously, the low sticker price has to be listed as an advantage. Buy it on Amazon for the best price. They're currently selling for $169 (with free shipping if you're a Prime member.) The XMark site lists this unit for $229. The Weider Power Tower is the only other good quality entry-priced station I would recommend in this price range.
Great Upper Body & Core Workout
You can do pullups and chins from a variety of hand positions, and the 84" height will make it easier for tall people to keep their feet off the ground. The versatility for doing dips I've already mentioned. The cushioned backrest and arm platforms allow for comfortable supported leg and knee raises. Lastly, there's padded pushup handles on the bottom of the machine for doing pushup and pushup plank exercises.
Warranty
The lifetime warranty puts the XMark XM-4434 in line with models like the BodyCraft T3, costing hundreds more. Compared to the 90-day warranty offered by Weider for their Power Tower, you can't go wrong spending $30 more for this unit.
Cons of the XMark XM-4434 Power Tower: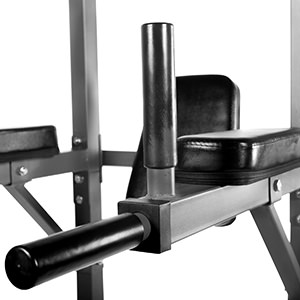 Cushioned Handles
This is a personal thing for me. I don't like cushioned handles when doing pullup and dipping exercises. This will be a bonus for many of you however, as such a feature is helpful if you don't have a strong grip. However, I've found that the padding eventually wears off anyhow after a period of use, so even if you like it this feature will probably be short-lived. Rubber is just as slippery as steel when you're sweating too!
Assembly Required
Another subjective con is the assembly. You need to have a set of wrenches (it bolts together) and a little patience to put the XMark XM-4434 together. Most reviews point to installation being simple enough, but the consensus seems to be that installation takes an hour on average.
Conclusion:
Definitely buy the XMark if you're looking for a simple and affordable workout station to get some functional bodyweight and core exercises in. The price is right and the build quality is above average for this price range.