Like it or not, exercise bike should not be missing from your home gym, as it is the simplest aerobic and cardio machine from which you can benefit a lot.
As old-fashioned as it seems, cycling is an excellent way to start your mornings, as it warms up your body and boost metabolism for accelerated fat oxidation processes during the day; it energizes, improves your mood and prepares you for the tough and stressful office tasks.
However, choosing exercise bike for your home gym can be challenging when you are unaware of the benefits and drawbacks of these devices. So, if you want to get familiar with the different types of exercise bikes available on the market and find out which is the best for your home gym, look at the brief descriptions below!
Types of exercise bikes for home gyms
Although there are dozens of models and sizes of these bikes, all of them can be classified into two main categories: upright and recumbent exercise bikes. Please read below how they are different and which ones are more effective in trimming down fats and toning muscles.
Upright exercise bikes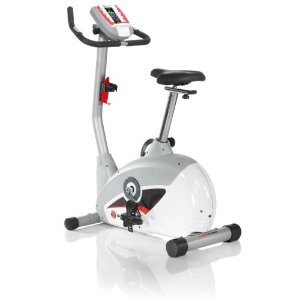 As their name implies, upright exercise bikes are vertical and resemble regular bicycles only that they are mounted on a fixed frame. Pedals are placed underneath the seat and your position while cycling is either upright or slightly leaned forward. Hands are placed on the handlebars found right in front of you, which can be fixed or mobile, depending on the manufacturer.
These bikes have more or less the same features, including:
A control panel displaying the number of burned calories, traveled distance, the time spent on the bike, the speed and a series of preset programs you can choose from;
An incorporated MP3 player for more entertaining workouts;
A small display for watching fitness programs or your favorite shows while cycling;
The seat height is adjustable in all models of upright bikes. Some of these bikes also allow you to select a different position for the handles, so that you can work both your upper and lower body at the same time.
Upright exercise bikes are usually easier to store and transport from one room to another, more lightweight and smaller than recumbent ones, but their main disadvantage is they put quite a lot pressure on the joints in hips, knees and back, as all movements require a lot of balance and flexibility from the user.
Recumbent exercise bikes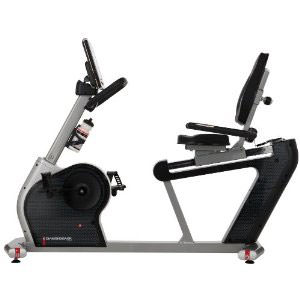 Recumbent exercise bikes are horizontal, with pedals placed at almost the same height as the seat, with a back support for a comfortable position during cycling. The feet are placed in front of your upper body and not below you, as in upright exercise bikes.
The seat is larger and usually has handles on the side, for a comfortable grip while cycling. Due to its horizontal design, this exercise bike works out different muscles in legs than a traditional, upright exercise bike, so you can successfully mix these two different cycling styles for enhancing your muscle strength, tone and shape.
Recumbent bikes are ideal for people experiencing lower-back pain frequently, for those suffering from hypertension and for fitness enthusiasts interested in working out and toning their hamstrings more than other body areas.
In what concerns the features these bikes have, they're pretty much the same found in upright bikes for home gyms: a control panel, a display showing the speed, time, calorie count and distance, preset programs to choose from and built-in audio or video gadgets.
Newer models of exercise bikes
As said, upright and recumbent bikes are considered as traditional and are commonly used in both home and professional gyms. If you want to invest more money in your home gym equipment, there are three additional types of exercise bikes that you can choose:
Dual action exercise bikes, which are more like elliptical trainers, featuring synchronized pedals and handlebars. These only allow back and forth movements, resistance and speed being selected by the user. Although workouts on the dual action exercise bike are not very complex, they do tone the upper and lower body and accelerate the heart rate, so they can be successfully used for daily cardio trainings.
Indoor cycling or spinning bikes, which simulate regular, road cycling by using a chain-driven pedaling system. These models usually come without control panels or computer consoles, and seats are similar to those found in road bikes, so they can be very uncomfortable.
Interactive exercise bikes, allow users to personalize their workouts in order to meet specific fitness or weight-loss goals. These bikes offer interval-training programs, endurance workouts and weight loss preset programs, being ideal for people looking for variation.
Advantages of exercise bikes for home gyms
A more accessible price compared to treadmills, rowing machines or cross trainers. Exercise bike for home gym can be purchased for price ranging between $200 and $1000.
Upright bikes are versatile, being suitable for aerobic, cardio and strength exercises. Featuring adjustable resistance levels, these devices can be successfully used by beginners, regular gym goers and professional athletes as well.
Recumbent bikes offer more support for the buttocks and back, reducing stress on joints, back pain and the risk of injuries.
Tension and resistance can be adjusted in both these models by simply selecting a different setting from the control panel or by rotating a button.
Exercise bikes are quieter than treadmills and more compact and lightweight than cross trainers.
Drawbacks of exercise bikes
Cycling is not a weight-bearing exercise so it is less effective than the cross trainer or treadmill workout, for example.
In upright bikes, seats are often very uncomfortable despite their padded design.
Given the repetitive movements done while cycling, stress on joints can be significant, and you can end up overworking certain muscle groups.
Workouts one exercise bike can get quite boring after a while, affecting the user's motivation.
As you can see, exercise bikes have both advantages and disadvantages. It is up to you to decide which exercise bike is the best for your home gym. Base your decision on your preferences and fitness goals: losing weight, getting fit, improving stamina and endurance, building leaner muscles or simply working out daily.
If you are interested to find out detailed difference between recumbent and upright exercise bikes, please read the article Recumbent Exercise Bikes vs. Upright Exercise Bikes.