The Weider Ultimate Body Works is an entry level glide-board-style workout station that uses your bodyweight and added resistance bands to give you a good all body workout. I'm not going to lie to you: this station isn't anywhere near on-par with the similar "Total Gym" from Total Gym Global, or the "Total Trainer" from Bayou Fitness.
Weider designed this unit for budget-minded folks who enjoy this type of resistance workout, but don't want to pay over $400 for higher-end models.
Let me start by telling you the out-of-the-box specs of the Weider Ultimate Body Works first.
Specifications:
71" L x 25.5" W x 49.5" H
Machine weighs 70lbs.
Light-duty steel frame.
Weight capacity is 250lbs.
90-day limited warranty.
Some assembly required.
Features:
Slide-Away Technology: Folds completely flat for easy storage.
Power Bands: Offering up to 50 pounds of additional resistance in addition to your bodyweight.
Pivoting Pulley System: The pulley attachments swivel 360-degrees to accommodate people with longer arms and to facilitate better strength and flexibility training.
7-Point Adjustable Incline: There are 7 different height adjustments; each level increasing or decreasing the level of resistance.
Workout Guide Included: This guide includes 100 different exercises you can do with the Weider Ultimate Body Works machine.
What Makes the Ultimate Body Works Station Unique?
As I mentioned earlier – this is a budget unit, so there isn't much to expect in terms of value added features. It has a small footprint, folding away neatly for storage in a closet or corner. However, it's designed for budget-minded folks, not those who want extra fancy attachments or increased durability.
I'm not saying you shouldn't buy the Ultimate Body Works, but I don't want to try overselling it like it's the most revolutionary glide-board-style home gym out there either.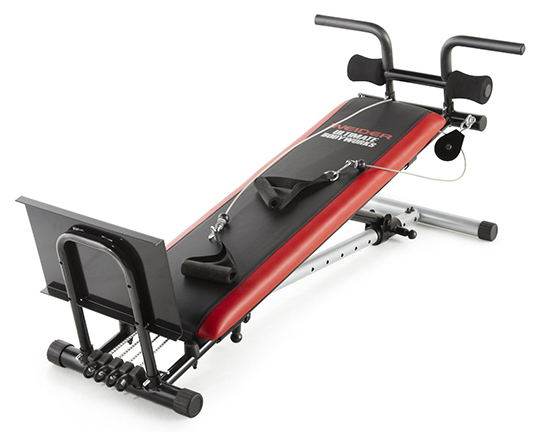 Pros of the Weider Ultimate Body Works trainer:
Cost Effective
It regularly sells for less than $140 on Amazon (before taxes and shipping.)
Works the Entire Body
You can do pressing and pulling exercises for both the lower and upper body including: pullovers, bench press, shoulder press, rows, pull-ups, squats, leg curls, sit-ups and much more.
Low-Impact Cardio Workout
One of the great benefits of the glide board and pulley setup is the ability to get the heart pumping without "pounding the pavement" performing bone and joint-jarring exercises.
Great Choice for Workout Newbies
Because the Ultimate Body Works machine combines full-body resistance training and cardio training in one machine, it's a far more practical choice for a beginner than buying a one-dimensional treadmill or elliptical trainer. It's also much safer than buying free weights.
Cons of the Weider Ultimate Body Works
Weight/Durability
I'm not sure how safe I'd feel suspended on this equipment, which only weighs 70 pounds. Compared to the Total Gym XLS and Bayou Fitness Total Trainer 4000-XL, which both weigh over 100 pounds, the strength and durability of the frame is questionable to me.
Resistance
I have a couple of issues with the resistance offered by this equipment. First, Weider doesn't specify how much actual resistance you get from the glide board + pulley + degree of incline. Similar manufacturers offer resistance from 4% – 69%. With this one we just don't know.
Bands Instead of Weight Bar
Resistance bands do wear and tear. I wouldn't want to be doing some squats on this machine with 50 pounds of added resistance when a band or two finally gives out! There's also no way to guarantee if 50 pounds today will equal 50 pounds after a year of use.
Warranty
Weider only offers a 90-day parts and labor warranty, which isn't near long enough to put this machine through its paces, in my opinion.
Conclusion:
I know I'm probably coming off as negatively biased about recommending the Ultimate Body Works. I only feel that way because it isn't the best in class for glide-board trainers. If you want to save some money and start getting a great workout at home, there is nothing in this price range that I would trust more. Weider is a quality manufacturer. Just please be careful when using those resistance bands!