Powertec's Workbench Levergym is designed to provide you with an excellent workout, utilizing 20 classic and highly effective strength exercises. It uses leverage to create resistance for a great muscle-building, fat burning workout. Using a leverage, machine gives you all the advantages of a free weight workout, without the dangers of dropping weights on yourself or getting trapped when you don't have a spotter to help you.
Product Description
The Workbench Levergym has a removable bench section that opens up to allow for squats, shrugs and rows. It also has a specially designed "isolated arms" system that taxes each side of the body individually, while doing compound exercises.
It comes with a regular black or a snappy yellow frame, constructed of sturdy cast iron. The padded touch points, bench and seat are made to be comfortable during even the longest workout sessions. It's created to be functional and last forever.
I highly recommend watching this video:
Specifications
Total footprint: 6'10" h x 8' L x 7' w
Lat Leveler: 400 pounds
Bench with transport wheels for easy in and out access
Access tube allows for addition of add-on accessories such as an Olympic weight set, dip bar, and lat tower.
Lifetime warranty on frame.
Two-year warranty on component parts.
One-year warranty on pads and grips.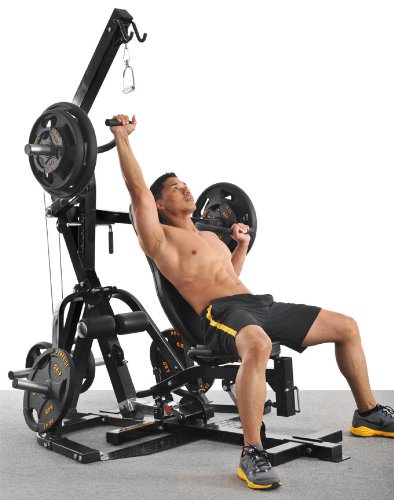 Pros of the Workbench Levergym:
No matter your level of fitness, there's a lot to love on this home gym machine. A few of my favorites are:
Adjustable isolated arms that are easily accessed or removed by a side pin.
Hand grips on workbench for use during leg exercises.
Removable wheeled bench for standing exercises.
An exceptionally sturdy frame and components.
Smooth pulleys allow for delicate movements.
Generous variety of exercises keeps workouts from being stagnant.
No squeaks or grinding noises during workout (a pet peeve of mine).
Plenty of room for plates ensures everyone from beginner to advanced user to enjoy using it.
Very safe design and good weight distribution.
Great variety of add-on accessories available.
It comes with pretty good warranty.
Cons of the Workbench Levergym:
Overall, this home gym machine is a good investment. I do however have a few complaints:
There have been complaints from people who've bought the Workbench Levergym claiming the instructions aren't very good.
The Levergym costs $1,279. It's worth it, but there are cheaper, lower-quality gyms that can be found for under $1,000.
You have to buy the weight plates separately.
It would have been nice for an exercise guide to be included. Specifically a DVD that shows how to set the machine up for each exercise, and even a quick demonstration on how to do the exercises themselves.
Conclusion
The Workbench Levergym by Powertec is an excellent home gym for those who are serious about getting stronger and building muscles. It will challenge you and help you accomplish your goals. It's built to last and you'll likely never have to worry about maxing out its weight capacity either.