The Weider Total Body Works 5000 Gym is a cheap, compact and effective trainer for home workouts. Buyers really appreciate its versatility, space-saving design and affordable price. It's a great piece of equipment for people who want to build a home gym on a budget. Aside from being a popular choice for those on a budget, the Weider Total Body Works 5000 Gym is also a quality exercise machine for anyone looking into toning their muscles, trimming down fats and gaining lean mass.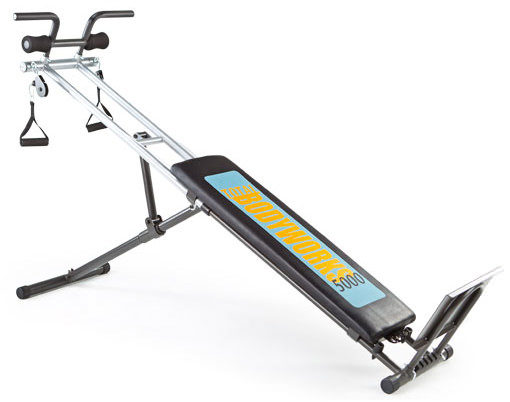 Flexible, adjustable and allowing an impressive number of different exercises for the upper and lower body, this machine takes a little maintenance and it's easy to move from one place to another. That makes it perfect for apartments or houses without separate home gym room.
Design and features
The Weider Total Body Works 5000 Gym has an attractive, sleek and modern design, being made of sturdy materials, elegantly painted in black and silver. The eye-catchy finish matches perfectly with the machine's frame. In addition, it seems that all included accessories and features are quality and durable.
The cable and lever system ensures its flexibility and allows you to work different groups of muscles without having to add cables or other tools. Its resistance system enables you to use most of your body weight while exercising, which improves the intensity of workouts.
At the same time, the adjustable incline board allows you to work with different angles for various levels of difficulty. The Weider Total Body Works 5000 Gym provides seven incline levels that you can easily shift by simply changing the slope of the glide board.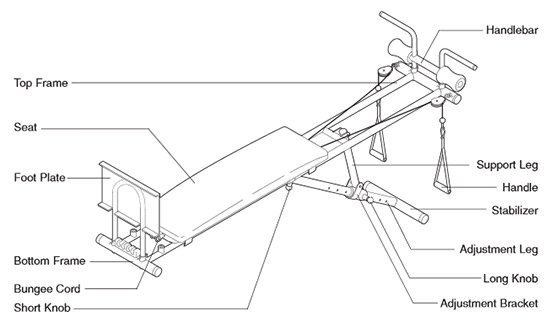 Versatility of use
Although it can't be considered as a high-end machine, the Weider Total Body Works 5000 Gym allows an impressive number of exercises for shaping muscles in arms, legs, shoulders, hips, thighs, back, abs and calves.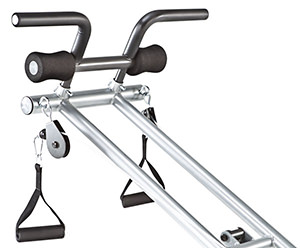 The pulley and cable system provides a wide range of motion while the four adjustable power bands allow you to add up to 50 pounds of extra weight to increase resistance during strength trainings. Although many people will tell that they could put more than 50 pounds of additional weights, this is a real plus. On these machines, resistance is limited with your bodyweight, so be able to increase resistance is a great option.
You can perform over 50 different routines on the Weider Total Body Works 5000 Gym. Therefore, if you are looking for a versatile piece of equipment for home workouts, this machine can be a good choice. Here are some exercises that you can do on this machine:
Kneeling rows for toning the upper back and the biceps;
Chest flies for strengthening and gaining mass in your chest and shoulders;
Hack squats for better defined quadriceps, hamstrings and glutes;
Cable crunches for more attractive abs, butt and legs;
Seated rows for toning and building stronger muscles in back, shoulders and arms;
Biceps curls and chest presses for improving your upper body's appearance;
In addition, the sit up/high handle feature allows you to work your abdominals in a very thorough manner making it easier for you to build six-pack abs.
Pros of the Weider Total Body Works 5000 Gym
The machine is very easy to use and comes with a detailed user guide. You will find assembling instructions as well as workout guide on how to use the machine for exercising specific muscle groups on the proper way. That's a useful, as workout guide will help you to get the most out of this machine.
I rarely put price as one of advantages, but I have to say that a great pro of the Weider Total Body Works 5000 Gym is its price. It maybe isn't high-end model, but for this price, this machine offers an excellent selection of exercises that can shape your whole body.
Another pro of this machine is its space-saving design, which means that it needs little space for storage. It's easy to fold it and since it folds flat, you can put it right below the bed, behind the doors or something like that. Folded, it looks like a big ironing board. 🙂

Cons of the Weider Total Body Works 5000 Gym
Warranty is a huge minus of the Weider Total Body Works 5000 Gym! Weider is offering only 30-day satisfaction guarantee and a 90-day limited (parts and labor) warranty for the machine itself. However, I like the option to try a product for 30 days and if you don't like it, you can return to them for 10% restocking fee and shipping costs. If you paid for the initial delivery, then you won't be charged for the return shipping.
I like when product specifications are transparent. They didn't mention anywhere what is the maximum supported user's weight. I don't like that and that's another minus from me. I know that Total Gym XLS Trainer and Bayou Fitness Total Trainer support up to 400 and 385 pounds, but I don't know what's the case with the Weider Total Body Works 5000 Gym machine, and I don't like it.
Conclusion
Regardless of some flaws, this trainer is one of the best buy fitness machines on the market. The Weider Total Body Works 5000 is an effective and convenient piece of equipment that ensures comfortable yet challenging training sessions for toning and shaping the entire body. For this price, you simply can't go wrong.